< All Blog Posts
Focus on Frederiksdal Cherry Winery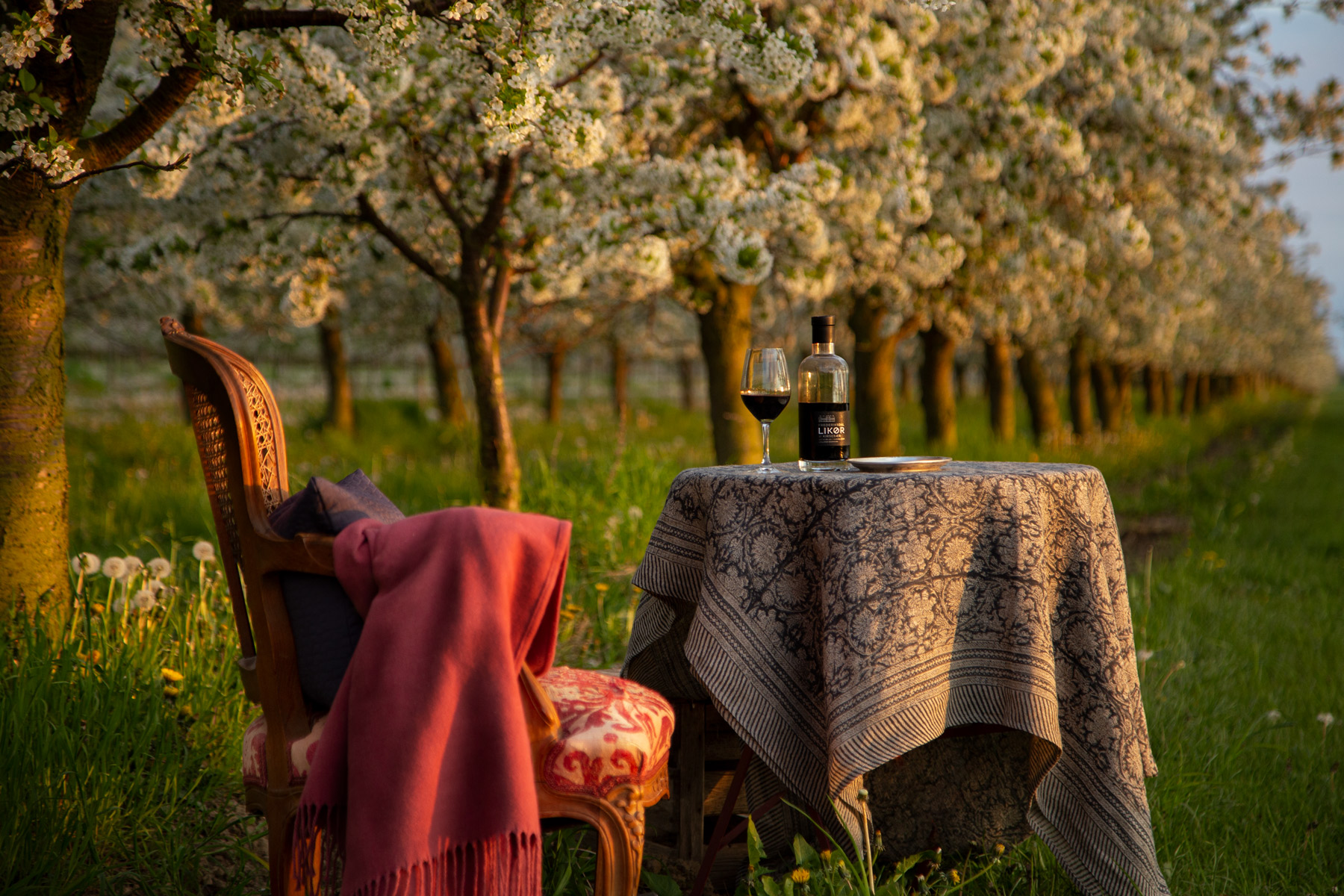 Blog
---
First rule of cherry wine club. Don't talk about cherry wine.
That is, in the form of the preconceived sweet varietal, or anything from the 1980's.
Welcome then to the world of Frederiksdal, a cherry winery based on Lolland, one of the Danish islands to the south of Copenhagen. Some of you will have heard of or tried this unique producer, but for the uninitiated Frederiksdal represent the last bastion of traditional cherry wine production, by utilising the Stevnsbær cherry natively grown in the region. It's neither a traditional cherry wine, nor is it port, or banyuls – but a unique wine made from cherries. Confused? Don't be.
Beyond Comparison
It's rare that you come across a producer that literally defies its own categorization. Yet when it's true and varied purpose is understood, it makes it all the more joyous a discovery, either as a drinker or as an importer. As we also wear both hats, this brand very much reflects our own ethos of 'flavour first' here at Distant Lands.
Taking the Stevnsbær cherry, owner Harold Krabbe and his winery team turn this hardy fruit from their 44 hectares estate into several iterations, using a variety of slow traditional methods. Although Harald is quick to point out that 'good wine is made in the field'. As a result, Wine, Vintages, Liquor, Demi-Sec, Vermouth, Rancios and straight up cherry juice are the product of this humble yet hardy fruit.
From a farming background Harold joined forces with chef Jan Friis-Mikkelsen and journalist Morten Brink Iwersen originally to start the winery as news travelled of the extraordinary 'Nordic Grapes' that were being grown there. Located on Lolland's western coastal tip next to the Langeland Strait they benefit from coastal exposure with mild winters, early springs, and a long growing season as a result. This leads to a depth and complexity of taste that defies its stereotypical flavour profile. Not so hot for eating, but for wine making purposes, excellent.
Respecting the past
Methods employed by the winery naturally include the blending and barrel ageing process. Although by harnessing more rustic approaches like the Rancio method, whereby the wine is exposed to the elements in glass 'balloons', or re-invigorating cherry liquor through pre-fermentation of harvested cherries, there is something altogether more resourceful, sustainable and harmonic that is occurring at the Frederiksdal estate.
Consequently, the cherry is in hot demand for not only Frederiksdal themselves but fellow producers like Mikkeller or restaurateurs like Simon Rogan.
Below is a run-down on each of the products that we currently importing from Frederiksdal – for further information or pricing then please contact us at [email protected] or simply fill out the form below.
Available Frederiksdal stock from Distant Lands
SUR LIE – Lies on the sediment
Sur Lie is primarily a method used in champagne, literally resting the wine on the yeast residue sediment which creates a richer, deeper more full-bodied wine. Sur Lie is a combination of different vintages aged in oak casks. This combination of mature and younger oak-aged vintages enhances the complexity, with the delicate fresh, fruity notes of the younger vintages being added to the complexity of older wine.

A friend of dark chocolate and cake.
RØD – Celebration time
Frederiksdal RØD is the most recent product from Frederiksdal Cherry Wine – it's a sparkling wine which is a deep red, bubbly, fruity and delightful Demi-Sec. RØD is made from cherries from the young Jørgensmark orchard which means that the cherries give a fruity accent to the wine. We have also added Lolland pears to add sweetness. This gives you the perfect combination of sweetness from the pears and the intensity of the cherry.
Frederiksdal Rød is perfect for strawberries, raspberries, cherries, cheese cake, dry cheese or a glass on the terrace – slightly chilled!
RESERVE – Intense and complex
Reserve is a combination of vintages matured in oak cask and large 600ltr Port casks. The lengthy contact with the oak adds more delicate notes of coffee and chocolate and brings out the delightful sour note of the Stevnsbær cherry. Finally, the wine is partly fortified with Frederiksdal's own cherry distillate which balances the taste with wild cherries and raspberries.
The complexity & finesse of Reserve makes it perfect for savoury foods like game and with strong cheeses.
RANCIO – The taste of nature
'Rancio' is a particularly bonkers way of making wine that produces amazing results. After fermentation, the wine is decanted into small glass 25L Demi-johns shaped like balloons and left under the sun for a year – a method used in Madeira, Porto & Banyuls for centuries. The sun, rain, cold & heat add unique notes of orange peel, figs & nuts to the sour cherry. After a year outdoors, the wine is matured for a further year in large, old cognac barrels, rounding off the flavour with a swirl of caramel.
Rancio is made for blue cheeses, ragouts & game, and if allowed to lie will evolve for many years.
LIKØR – A new type of liqueur
Traditional liqueur is made simply with juice, sugar & alcohol. In this reinvented version, the Stevnsbær cherries have been fermented naturally immediately following harvest, cherry alcohol only being added subsequently. This process gives the Likør more complexity & intensity. Sharp with an intense cherry sweetness, a hint of chocolate & an irresistible citrus finish.
Ideal on its own as a digestif, or as a foundation for a cocktail or long drink Liqør has been known to reduce those who drink it to tears of joy.
Say hello…