< All Blog Posts
The Frederiksdal Stevnsbær Cherry Project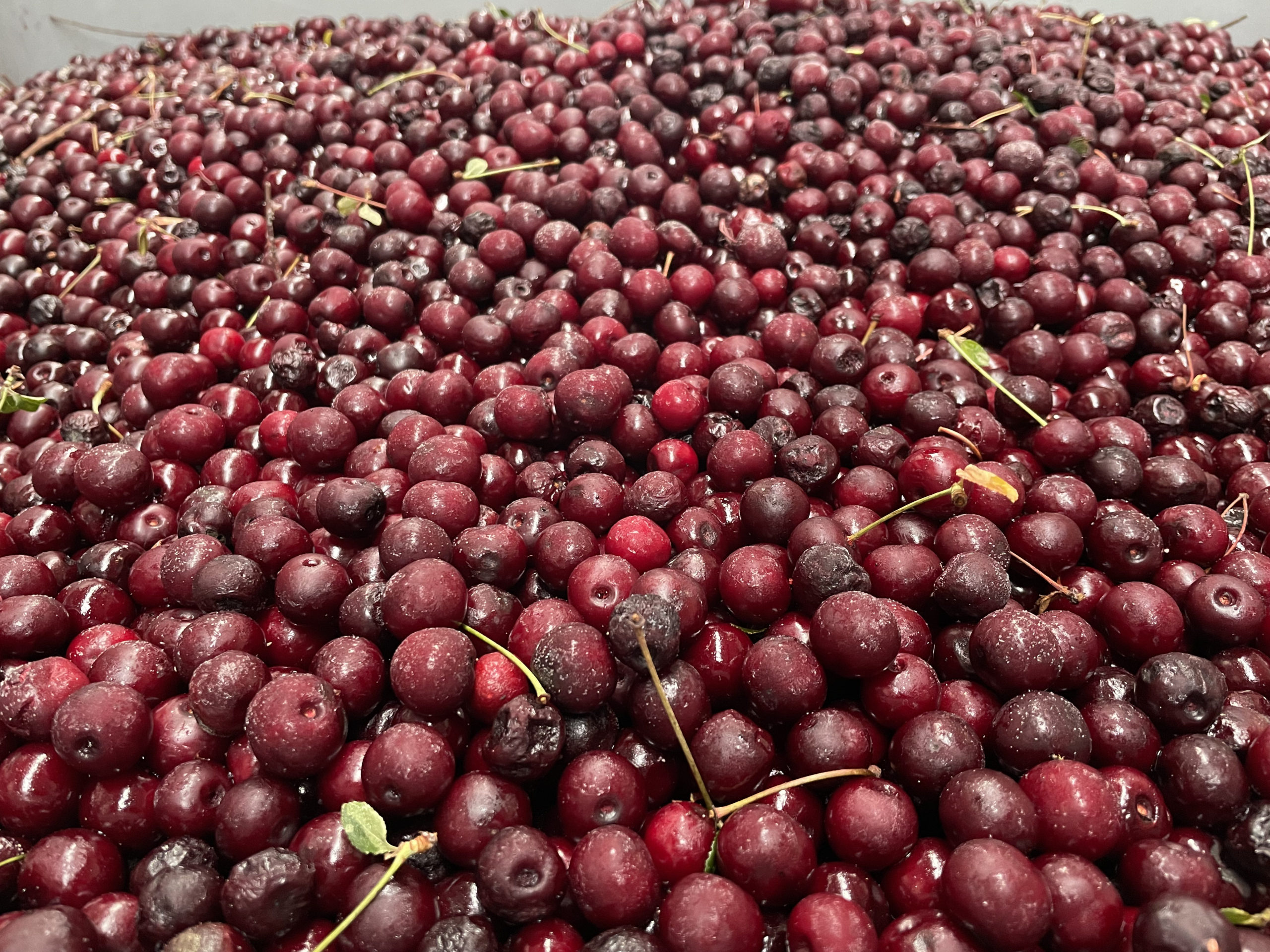 Blog
---
From Organic Cherry Orchard to Fantastic Beer
We are huge admirers of the awesome work Harald and his team do at Frederiksdal in producing the greatest cherry wines in the world, and one of our favourite things about this great winery is their willingness to collaborate with people from other industries, especially in the craft beer world.
The unique Stevensbær cherries grown at Frederiksdal with their massively intense flavour, & juicy acidity, not only lend themselves to terrific wine, but are also the perfect bedfellows for adding to top quality mixed ferm beers and imperial stouts. Add to this the incredible potential of ageing beer in Frederiksdal ex-cherry wine barrel and you have a match made in heaven.
We have been begging the odd ex-cherry wine barrel from Frederiksdal for a few years now to age beers in tiny amounts, and it has always been our dream to get our hands on some of the red nectar.
That is the whole cherries themselves for beer projects with our UK brewery friends who we thought would make something spectacular.
Unfortunately for us the 2021 cherry harvest in Denmark was a small one. Owner Harald informed us there may not be any cherries available for beer projects, except perhaps a small selection from their organic orchard of Birgitte cherries that had not produced enough for wine this year. It took us until the end of his sentence to claim whatever he could spare from that orchard, and we were delighted to be the proud owners of 500kg of finest organic Stevensbær cherries from the 2021 harvest.
We shipped over the whole cherries frozen in January and split them off to 4 breweries who we work closely with; Pastore, Little Earth Project, Emperors & Vault City.
We're proud to know these incredible brewers and have asked them to give us a low down of what they've been up to with the barrels and the cherries.
The beautiful thing about this project is that each brewery has put its own stamp on the barrels and the cherries. Some are ready now, some will be ready later, and some we have no clear idea when they'll be ready. The beauty and mystery of barrel ageing.
We asked our breweries how they intended to use this fabulous fruit…
Pastore
Ben – Head Brewer & Owner
"We have made two different wild blends with the organic Stevnsbær cherries that Distant Lands brought over. One is a golden wild ale and the other is a dark wild ale. Both were aged for one year in frederiksdal cherry wine barrels before resting on 250 g/l organic Stevnsbær cherries for one month ahead of bottle conditioning.
The golden base is fermented with our mother culture of wild yeasts and microbes and gives a more delicate base beer, allowing for the cherries to shine through in their full-on punchy glory. The beer has taken on a deep vivid red hue and is an ode to the Stevnsbær cherry, rich & complex, with a backbone of acidity, dryness & funk.
The dark base is a porter style beer fermented with our mother culture giving a richer, more chocolaty base atop which the cherries provide a more decadent experience. The colour is again very vivid, dark blacky red. The taste is rich with chocolate, cherries and acid tingling the tongue.
Overall working with these cherries has been a great experience, they provide an incredible flavour profile & colour to the beer when compared with other varieties we have used in the brewery and we hope to work with them again in the future!"
Emperors Brewery
Damien – Sith Lord and Master of the Darkside
"We started off with adding 20kg of cherries to the Frederiksdal barrels then a thick, rich, heavy dark chocolate imperial stout was slathered over the top. The stout finished at FG 1.055, as it was important for the beer to have a hefty, unctuous mouthfeel, to be able to carry the intense, sour flavour of these extraordinary Birgitte cherries. The beer will now sit for 6-12 months, picking up the flavours from both the cherries and the oak barrels before being bottled and kegged. With only around 400l of beer, this will be a very exclusive bottling. Combining the world-class artisanal cherry wine character of Frederiksdal with the power of the Dark Side"
Little Earth Brewing Project
Tom – Head Brewer & Blender
"The cherries are currently in tank with a blend of 2 barrels of deep amber colored sour beer. The first barrel was an ex-ruby port barrel that was filled with a wort in June 2020 and fermented with our culture of yeast and bacteria we harvest from a natural cider. The beer has a sweet rounded acidity and hints of oak and port. The second is a beer that was aged in the Frederiksdal barrel we got from Distant Lands in November 2020. That beer was again fermented with our wild culture but has a roasty smoked character from the chocolate and smoked malt used, as well as a dry oaky cherry finish. For this blend we used 75KG of Frederiksdal sour cherries as well as 25KG of sweet cherries from North Essex. We will be using the other 25KG of sour cherries in a golden sour blend when we find suitable barrels"
Vault City
"999g/l Stevnsbær Cherry is a limited-edition release, created using whole Stevnsbær sour cherries from Frederiksdal's first organic orchard. We've taken the legal maximum amount of fruit we could use while still calling this product a beer, and fermented it on our strong golden sour base beer to deliver an intense and unforgettable sour. Expect rich aromas of cherry, and deep, delicious flavours of the soft fruit."